Non-Emergency Contact
(915) 858-9237
Records Clerk
Phone: (915) 860-9073
Fax: (915) 900-5156
240 N. Moon Rd
Socorro, TX 79927
Monday – Friday
8:00 AM – 5:00 PM
Emergencies:
Available 24/7
Call 9-1-1
Message from the Chief of Police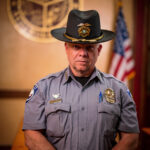 David Burton

Police Chief
On behalf of the Socorro Police Department, it is my privilege to welcome you to our new website. We have designed this website with the community in mind. Here, you will find easily accessible information on the current activities, news stories, community outreach opportunities, job postings, and most importantly, the ability to stay connected with your police department.

As your Police Chief, I am committed to maintaining a positive impact in our community by providing the most efficient and transparent services possible. We have something special here in Socorro; the relationship between the Police Department and the people we serve is unlike any other. It is a mutually beneficial relationship built upon trust and respect. This is where our success as a department comes from. I believe in working jointly with the community to establish community policing approaches to aid in creating a city where our actions, policies, and voices are united towards a goal of public safety and community involvement. As members of this agency, each of us views ourselves as public servants, whether sworn or civilian, and intend to be fully dedicated to our community.

The most important way a Police Department builds trust between themselves and the community it serves, is based on how they treat that very community; it must always act with kindness, decency, and respect. Ultimately, our job is to Expect Excellence of ourselves as public servants. In doing so, we continue to build that trust with our community by holding ourselves accountable.

How we handle complaints is the other: if you have a concern about how we did our job, please let us know. There are processes in place for our community to provide compliments, concerns, or complaints in a secure, and accessible manner- which is also found on this webpage.

Certainly, we have our fair share of crimes. Dealing with crime though is what police do. It is our job. With an intense hiring process, a commitment to career-long training, excellent supervision, and high standards for our officers, we have had success in dealing with crime and disorder concerns. Considering all these things, the Socorro Police Department is confident in our abilities to continue evolving and growing with our community in order to provide the security Socorro residents deserve.

Please remember, our doors are always open should you like to speak to us. Please tour the new webpage -take a look around and even check out our social media pages. Take the time to learn about us and befriend us. Stop by in either the virtual world or the real world. We are happy to answer any questions you may have.

For any questions or concerns please contact Chief Burton via email at: policechief@costx.us
Name

Position

Chief Administrator of Police

Administration Lieutenant
The Police Administration staff plays a high role of responsibility and authority. Officers within the administration staff are responsible for overseeing the entire department, including handling the employment of new officers and their training. The administration also takes on ethical responsibility in determining the termination of their subordinates.
Name

Position

Contact Information
The Records Division is committed to assisting citizens, agencies, and our community with their requests for the City of Socorro Police's written reports.
All requests for reports and records must be in writing.
For an Accident / Crash Report please provide the exact date, location of the crash, name of the person involved in the crash, and case number.
For an Offense or Incident Report please provide the case number, date, location, name of the complainant, name of the victim, or, name of the person arrested.
If you have questions, please contact Records at 915-860-9073 for assistance.
The Investigations Division is responsible for all follow-up investigations that may lead to the identification of a suspect or suspects, recovery of stolen property and the clearance of reported offenses, as well as the collection and preservation of evidence.
Members of the dispatch unit perform under general supervision, dispatch and monitor officers through a multi-channel radio system. Dispatchers receive all emergency 911 and non-emergency calls, as well as determine which officers to dispatch for specific calls. For any information on the Dispatch Unit, contact Trinity Jara by sending an email to tjara@costx.us.

The Emergency Response Team, referred to as ERT, is a team that operates at a higher level than patrol officers. The ERT is capable of performing more tactical operations such as hostage situations, responding to active shooters, and taking on threats from transnational criminal organizations.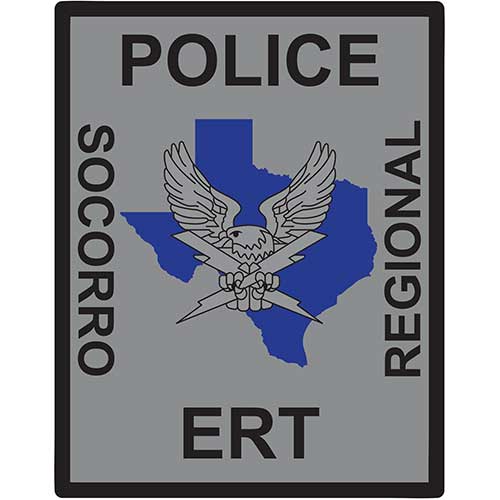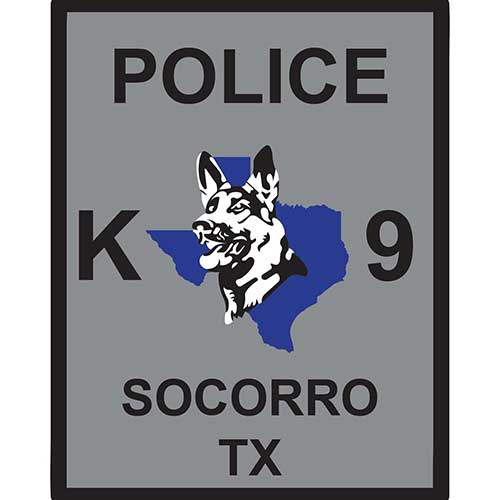 The K-9 Unit is a specialized unit that receives assistance from dogs during their patrol. This unit performs the tasks of a general police officer while also performing tasks specific to K-9 unit dogs such as finding illegal substances, tracking missing persons, and also detecting explosives. Socorro PD's K-9 unit consists of Officer Castaneda and his canine partner.
With description and contact information for Sergeants/Corporals
Patrol Unit is responsible for the monitoring of city streets, alleys, and rights of way, and first-line response to citizens calls for service. It encompasses:
Commercial Vehicle Enforcement
Hit and Run Investigation
Patrol
Bicycle Patrol
Victim Assistance Program
The Victim Service Assistance Program is a program specifically targeted toward assisting victims of crime as well as their families through personal advocacy and support from Ms. Lorenza Elias. Since her hiring in 2019, Mrs. Elias has provided essential support services to over 900 constituents. Her services include court accompaniment, assisting in filing for Crime Victims Compensations, and more. Beyond that, this program is also a place of assistance for those who aren't seeking help for criminal or legal matters and can provide information on external resources for civil matters.
To contact Ms. Lorenza Elias, send an email to crimesadvocate@costx.us, or call at 915-275-1050.